Good Quality Solid-Liquid Separator Rotary Drum Filter Screen
Product Detail
Product Tags
The Rotary Drum Screen is a reliable and well-proven inlet screen for municipal sewage treatment plants,industrial wastewater and process water screening.Its operation is baesd upon a unique system that also allows a combination of screening, washing, transport, compaction and dewatering in a single unit.The screening elements can be either wedge wire spaced at 0.5-6mm, or 1-6mm perforated drums.Depending on the aperture size selected and the screen diameter(screen basket diameter of up to 3000 mm are available), the throughput can be individually adjusted to specific site requirements.The Rotary Drum Screen is completely made of stainless steel and can be installed either directly in the channel or in a separate tank.
1.The uniformity of water-distribution increases the treating capacity.
2.The machine is driven by chain transmission, of high efficiency.
3.It is equipped with reverse flushing device to prevent the screen clogging.
4.Double overflow plate to prevent wastewater splash .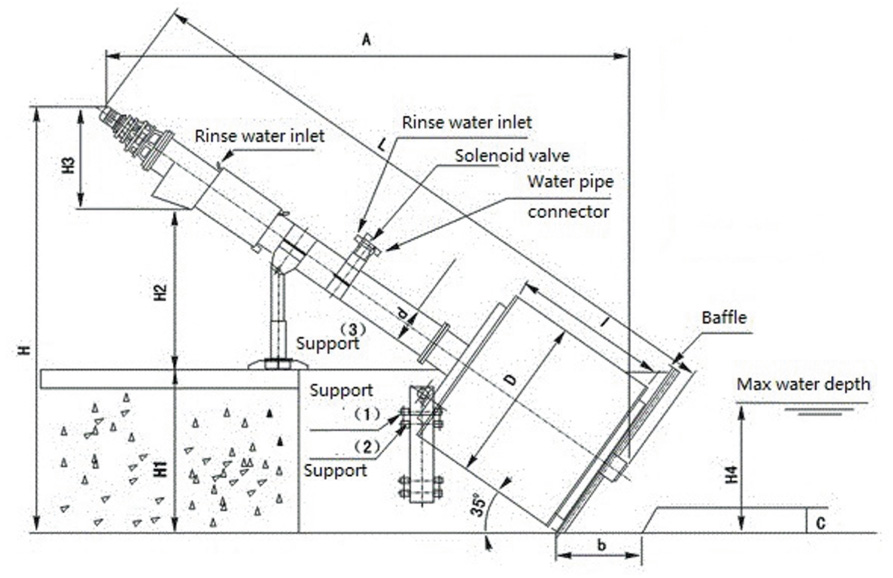 This is a kind of advanced solid-liquid separation device in water treatment, which can continuously and automatically remove debris from wastewater for sewage pretreatment. It is mainly used in municipal sewage treatment plants, residential quarters sewage pretreatment devices, municipal sewage pumping stations, waterworks and power plants, also it can widely be applied to water treatment projects of various industries, such as  textile, printing and dyeing, food, fishery, paper, wine, butchery, curriery etc.

Model
600
800
1000
1200
1400
1600
1800
2000
Drum Diameter(mm)
600
800
1000
1200
1400
1600
1800
2000
Drum Length I(mm)
500
620
700
800
1000
1150
1250
1350
Transport Tube d(mm)
219
273
273
300
300
360
360
500
Channel Width b(mm)
650
850
1050
1250
1450
1650
1850
2070
Max Water Depth H4(mm)
350
450
540
620
750
860
960
1050
Installation Angle
35°
Channel Depth H1(mm)
600-3000
Discharge Height H2(mm)
Customized
H3(mm)
Confirmed by the type of reducer
Installation Length A(mm)
A=H×1.43-0.48D
Total Length L(mm)
L=H×1.743-0.75D
Flow rate (m/s)
1.0
Volume(m³/h)
Mesh(mm)
0.5
80
135
235
315
450
585
745
920
1
125
215
370
505
720
950
1205
1495
2
190
330
555
765
1095
1440
1830
2260
3
230
400
680
935
1340
1760
2235
2755
4
235
430
720
1010
1440
2050
2700
3340
5
250
465
795
1105
1575
2200
2935
3600
---
---