Mechanical Internal Feed Rotary Drum Filter Screen
Product Detail
Product Tags
1.The material is high-strength and corrosion-resistant stainless steel; Less used field area; Convenient construction; It can be directly fixed with expansion bolts without channel construction; Inlet and outlet water can be connected with pipes. 
2.The screen will not be blocked by waste solid because the machine is inverted trapezoid cross section
3.The machine is controlled by adjustable-speed motor, which can maintain optimum working condition according to water flow. 
4.Special washing device can brush away the impurities on the surface of screen, after twice internal brush, it will achieve the best cleaning effect.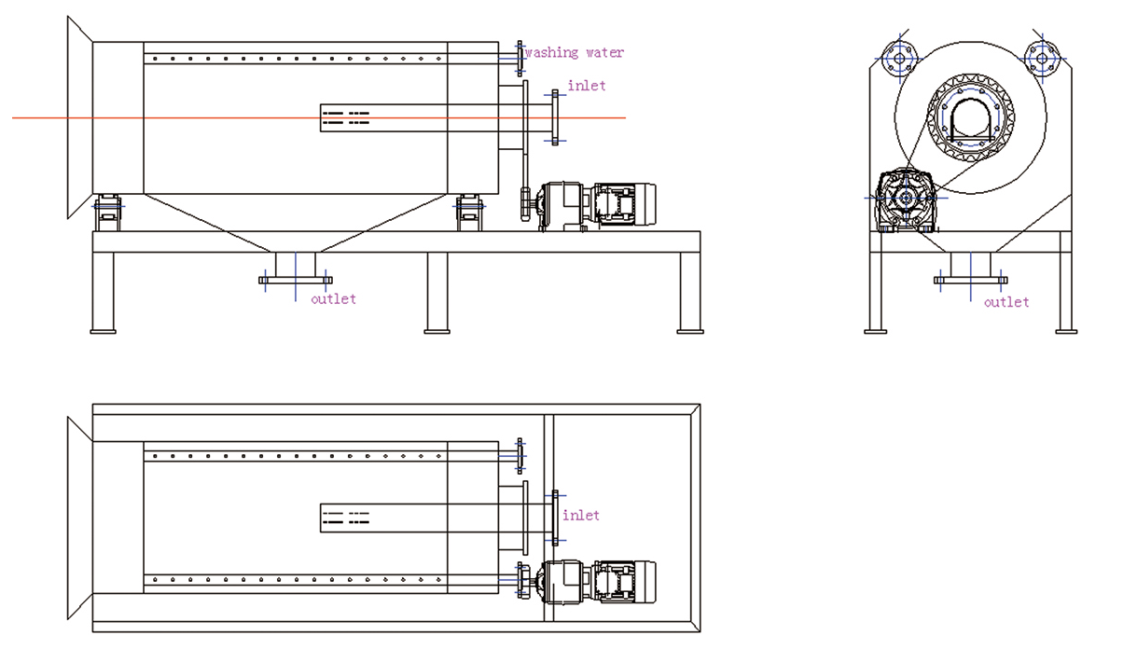 This is a kind of advanced solid-liquid separation device in water treatment, which can continuously and automatically remove debris from wastewater for sewage pretreatment. It is mainly used in municipal sewage treatment plants, residential quarters sewage pretreatment devices, municipal sewage pumping stations, waterworks and power plants, also it can widely be applied to water treatment projects of various industries, such as  textile, printing and dyeing, food, fishery, paper, wine, butchery, curriery etc.

Model
Screen Size
Dimensions
Power
Material
Removal rate
Solid size
Solid size
HlWLN-300
φ300*800mm
Space:0.15-5mm
1500*500*1200mm
0.55KW
SS304
0.95
0.55
HlWLN-400
φ400*1000mm
Space:0.15-5mm
1800*600*1300mm
0.55KW
SS304
0.95
0.55
HlWLN-500
φ500*1000mm
Space:0.15-5mm
1800*700*1300mm
0.75KW
SS304
0.95
0.55
HlWLN-600
φ600*1200mm
Space:0.15-5mm
2400*700*1400mm
0.75KW
SS304
0.95
0.55
HlWLN-700
φ700*1500mm
Space:0.15-5mm
2700*900*1500mm
0.75KW
SS304
0.95
0.55
HlWLN-800
φ800*1600mm
Space:0.15-5mm
2800*1000*1500mm
1.1KW
SS304
0.95
0.55
HlWLN-900
φ900*1800mm
Space:0.15-5mm
3000*1100*1600mm
1.5KW
SS304
0.95
0.55
HlWLN-1000
φ1000*2000mm
Space:0.15-5mm
3200*1200*1600mm
1.5KW
SS304
0.95
0.55
---
---