Auto Wastewater Pretreatment Machine Mechanical Bar Screen
Product Detail
Product Tags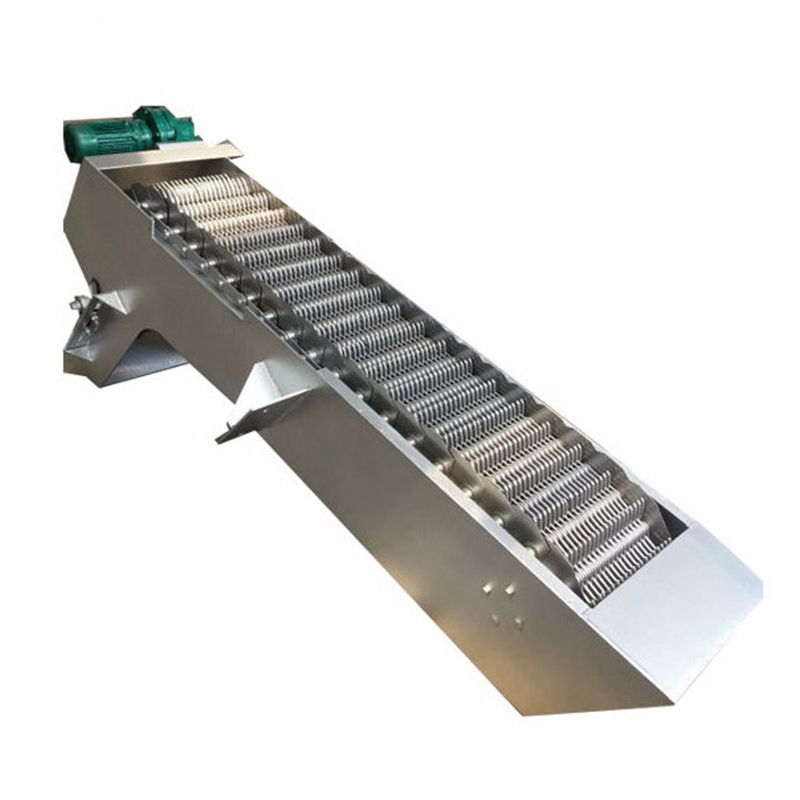 1.The driving unit is directly driven by cycloidal gear reducer or helical gear reducer which shows the nature of working stability, low noise, big load capability    and high efficiency in conveying.
2.Simple structure with compact size, easy to install and move. Device can self-clean up while working, easy to maintain.
3.Easy to operate, can be controlled directly on the spot or remote.
4.Include overload protection device, machine will shut down automatically when malfunction happens to avoid damage.
5.When the device width exceeds 1500mm, will be made into parallel machine to ensure the overall strength.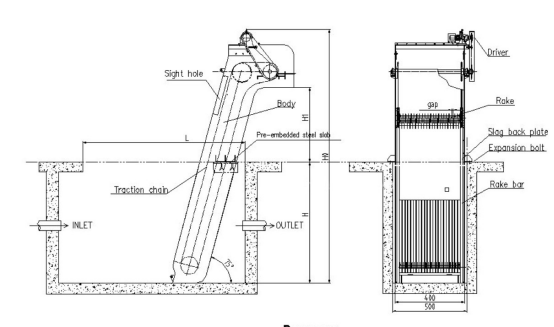 This is a kind of advanced solid-liquid separation device in water treatment, which can continuously and automatically remove debris from wastewater for sewage pretreatment. It is mainly used in municipal sewage treatment plants, residential quarters sewage pretreatment devices, municipal sewage pumping stations, waterworks and power plants, also it can widely be applied to water treatment projects of various industries, such as  textile, printing and dyeing, food, fishery, paper, wine, butchery, curriery etc.

                                           Model /Parameter
HLCF-500
HLCF-600
HLCF-700
HLCF-800
HLCF-900
HLCF-1000
HLCF-1100
HLCF-1200
HLCF-1300
HLCF-1400
HLCF-1500
Device Width B(mm)
500
600
700
800
900
1000
1100
1200
1300
1400
1500
Channel Width B1(mm)
B+100
Effective Grille Spacing B2(mm)
B-157
Anchor Bolts Spacing B3(mm)
B+200
Total Width B4(mm)
B+350
Teeth Spacing b(mm)
t=100
1≤b≤10
t=150
10<b≤50
Installing Angle α(°)
60-85
Channel Depth H(mm)
800-12000
Height Between Discharge Port and Platform H1(mm)
600-1200
Total Height H2(mm)
H+H1+1500
Back Rack Height H3(mm)
t=100
≈1000
t=150
≈1100
Screen Speed v(m/min)
≈2.1
Motor Power N(kw)
0.55-1.1
0.75-1.5
1.1-2.2
1.5-3.0
Head Loss(mm)
≤20(no jam)
Civil Load
P1(KN)
20
25
P2(KN)
8
10
△P(KN)
1.5
2
Note:Pis calculated by H=5.0m,for every 1m H increased,then P total=P1(P2)+△P
t:rake tooth pitch coarse:t=150mm
fine:t=100mm
Model /Parameter
HLCF-500
HLCF-600
HLCF-700
HLCF-800
HLCF-900
HLCF-1000
HLCF-1100
HLCF-1200
HLCF-1300
HLCF-1400
HLCF-1500
Flow Depth H3(m)
1.0
Flow Velocity V³(m/s)
0.8
Grid Spacing b(mm)
1
Flow Rate Q(m³/s)
0.03
0.04
0.05
0.06
0.07
0.08
0.08
0.09
0.10
0.11
0.12
3
0.07
0.09
0.10
0.12
0.14
0.16
0.18
0.20
0.22
0.24
0.26
5
0.09
0.11
0.14
0.16
0.18
0.21
0.23
0.26
0.28
0.31
0.33
10
0.11
0.14
0.17
0.21
0.24
0.27
0.30
0.33
0.37
0.40
0.43
15
0.13
0.16
0.20
0.24
0.27
0.31
0.34
0.38
0.42
0.45
0.49
20
0.14
0.17
0.21
0.25
0.29
0.33
0.37
0.41
0.45
0.49
0.53
25
0.14
0.18
0.22
0.27
0.31
0.35
0.39
0.43
0.47
0.51
0.55
30
0.15
0.19
0.23
0.27
0.32
0.36
0.40
0.45
0.49
0.53
0.57
40
0.15
0.20
0.24
0.29
0.33
0.38
0.42
0.46
0.51
0.55
0.60
50
0.16
0.2
0.25
0.29
0.34
0.39
0.43
0.48
0.52
0.57
0.61
---
---