Anti-clogging Dissolved Air Floatation(DAF) System for Sewage Treatment
Product Detail
Product Tags
1.Flow rate of one set: 1-100 (suitable for export).
2. Recycle flow dissolved air flotation.
3.High efficiency pressurization system creating large quantities of micro bubbles large
quantities of small bubbles.
4.Custom design on different DAF equipment and recycle flow ratio according to the type of wastewater and treatment requirement to achieve target removal effect and stability.
5.Adjustable stainless steel chain type skimmer to suit the different quantity of sludge
6.Integrated coagulation tank or flocculation tank and cleaning water tank (as optional) is available to save the space and cost.
7.Automatic and remote controllable.
8.Material of construction.
① Carbon Steel (Expoxy Painted).
②Carbon Steel (Expoxy Painted)+FRP Lining.
③Stainless Steel 304/316L.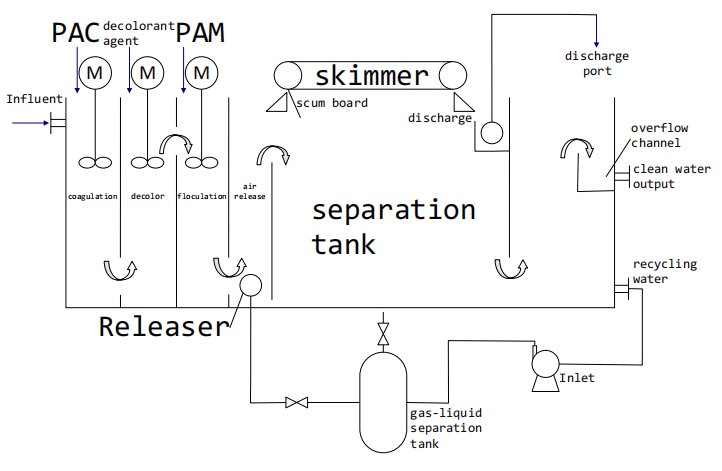 DAF is a proven, and effective physical-chemical technology commonly used for many industrial and municipal applications, including:
1.Product recovery and reuse
2.Pretreatment to meet sewer discharge limits
3.Pretreatment to reduce loading on downstream biological systems
4.Polishing of biological treatment effluent
5.Removing silt and grease from industrial water
DAF is used extensively in the following industries:
1.Meat, poultry and fish processing
2.Dairy industry
3.Petrochemicals
4.Pulp and paper
5.Food and beverage

Model
Capacity
(m³/h)
Dissolved air water volume(m)
Main motor power(kW)
Mixer power(kW)
Scraper power(kW)
Air compressor power(kW)
Dimentions
(mm)
HLDAF-2.5
2~2.5
1
3
0.55*1
0.55
-
2000*3000*2000
HLDAF-5
4~5
2
3
0.55*2
0.55
-
3500*2000*2000
HLDAF-10
8~10
3.5
3
0.55*2
0.55
-
4500*2100*2000
HLDAF-15
10~15
5
4
0.55*2
0.55
-
5000*2100*2000
HLDAF-20
15~20
8
5.5
0.55*2
0.55
-
5500*2100*2000
HLDAF-30
20~30
10
5.5
0.75*2
0.75
1.5
7000*2100*2000
HLDAF-40
35~40
15
7.5
0.75*2
0.75
2.2
8000*2150*2150
HLDAF-50
45~50
25
7.5
0.75*2
0.75
3
9000*2150*2150
HLDAF-60
55~60
25
7.5
0.75*2
1.1
4
9000*2500*2500
HLDAF-75
70~75
35
12.5
0.75*3
1.1
5.5
9000*3000*3000
HLDAF-100
95~100
50
15
0.75*3
1.1
3
10000*3000*3000
---
---