Yixing Holly Technology is a domestic forerunner in producing environmental equipments and parts used for sewage treatment.
Below are some pictures of recent shipments:tube selttler media and bio filter media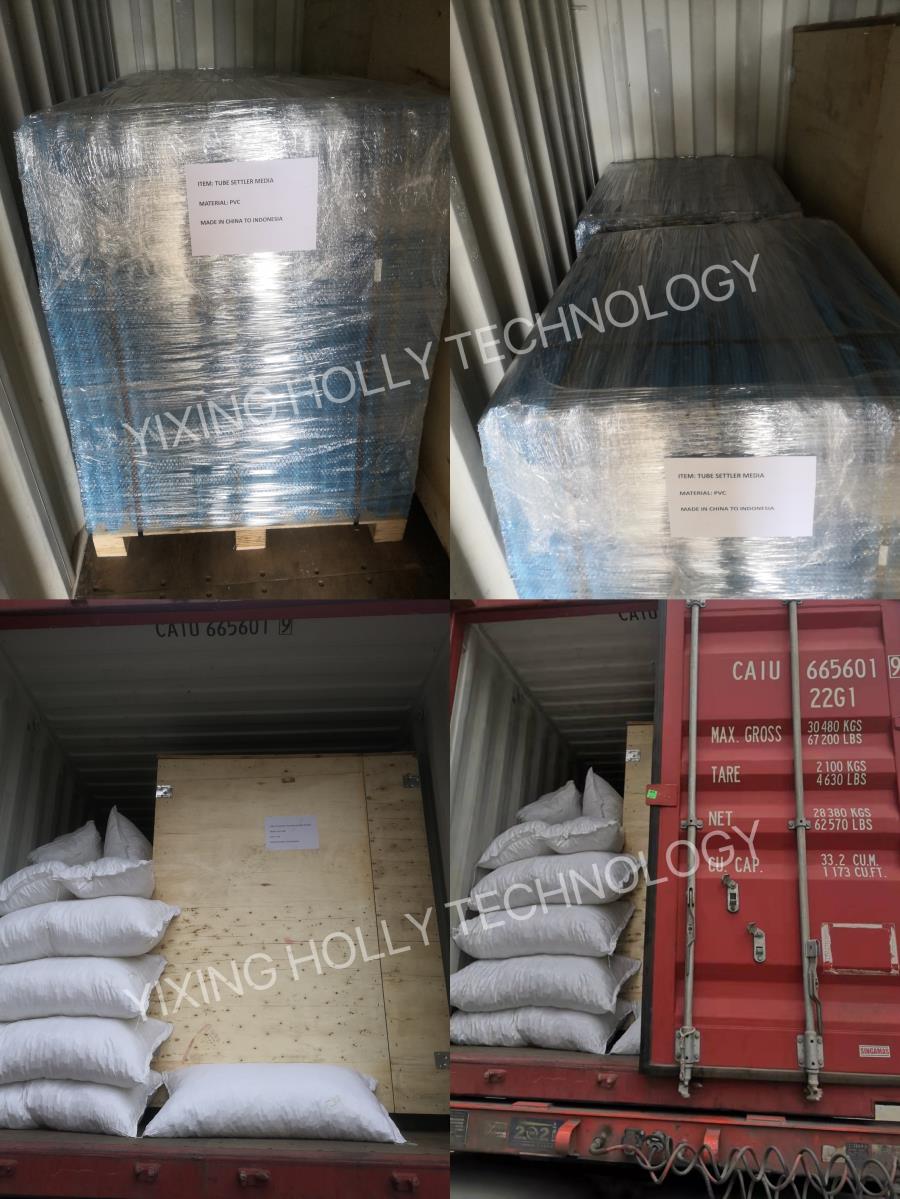 ln line with the principle of Customer first", our company has developed into a comprehensive enterprise integrating production, trading, design and installation service of sewage treatment equipments. After years of exploring and practices, we have built up complete and scientific quality system as well as perfect after-sale service system.At present, over 80% of our products export more than 80 countries, including Southeast Asia, Europe, North America, Latin America, Africa .. For years, we have gained most of our customers' trust and welcome from home and abroad.
Our main products including: Dewatering screw press, Polymer dosing system, Dissolved air flotation(DAF) system, Shaftless screw conveyor, Machanical bar screen, Rotary drum screen, Step screen, Drum filter screen, Nano bubble generator, Fine bubble diffuser, Mbbr bio filter media,Tube settler media, Oxygen generator, Ozone generator etc.
Tube settler  is very suitable in all different clarifiers and removing sand. It is regarded as universal water treatment equipment in water supply and drainage engineering. It has wide application, high handling efficiency, small area, etc. It is suitable in removing sand in inlet, industry and drinking water precipitation, separation in oil & water.
The modular and cubical self-supporting settler design of Honeycombed Inclined Tube Settlers aids handling during installation and any subsequent maintenance.
1mm black PP lamella clarifier tube settlers media for sewage water treatment  design avoids thin wall membranes and utilizes forming techniques to minimize component stress and subsequent environmental stress cracking fatigue.
1mm black PP lamella clarifier tube settlers media for sewage water treatment  offers an inexpensive method of upgrading existing water treatment plant clarifiers and sedimentation basins to improve performance. They can also reduce the tankage/footprint required in new installations or improve the performance of existing settling basins by reducing the solids loading on downstream filters.
---
Post time: Jan-07-2022